We are organizing this today with the help of virtual CD and why. Do not know at the beginning what a virtual CD is?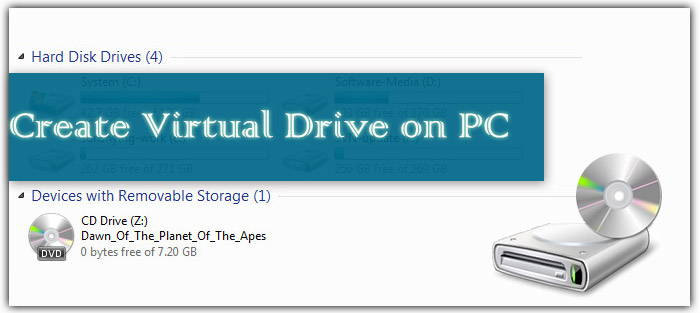 What is a virtual CD?
A virtual CD or DVD is a type of software that creates a CD-ROM on a computer. And in these virtual CDROMs, you can open ISO files. And this virtual optical ROM will work just like a CD or DVD ROM.
We got a rough idea about virtual DVDs or CDs. Now you need to know why I will use a virtual CD or DVD.
Why use a virtual DVD?
Virtual CDs do not support any physical CDs or DVDs. However, ISO files can be easily used by mounting.
Installation files of several important software, including the operating system, are available in ISO file format. So you need a virtual DVD or CD drive to take the files inside without extracting those ISO files.
How to create a virtual CD or DVD
I said at the beginning that we use software to create a virtual CD or DVD. So we will use a very small and powerful tool or software.
The name of the software is Power ISO. It is also very small in size, only 4 MB. And there are two different versions for 32 bit or 64 bit.
To create a bootable pen drive for Windows. Enter the link below to download the virtual DVD creation software.
The current version of the software 7.8. Download your operating system bit from the Downloads tab and begin the installation.
Like other software can be installed very easily.
Configure Power ISO
Basically power ISO can be configured here. The box on the left shows which file types will be supported. By default, it supports ISO files and many more.
And from the right pass, you can decide how many virtual drives you will take. By default, it is one ,but you can increase the number as you need. For example, I have selected 2 drives to create two drives.
Now close it. Then restart the computer. Because you won't get the virtual disks until you restart. After restarting the computer, enter the computer and see that the Virtual CD Drive has been created in your computer.
Mounting or using a virtual disk
Mount image to Virtual Drive to add iso file to CD Drive. Right-click on CD Drive and click Mount image to Virtual Drive from PowerISO.
Now show the ISO file that you want to open. After that, you will see that it has been added.
If you like our short articles, please don't forget to share them with others.